大部分新加坡的政府中学提供4年的快捷课程或5年的普通课程。中学会根据学生入校时的成绩将学生分流进入快捷课程(Express),普通学术课程[N(A)]或普通工艺课程[N(T)]。学生在中4或中5参加新加坡剑桥普通教育证书(普通水准)考试,即剑桥O水准考试(GCE O-level Examination)。通过O水准考试后学生可以报考理工学院,初级学院或者高级中学。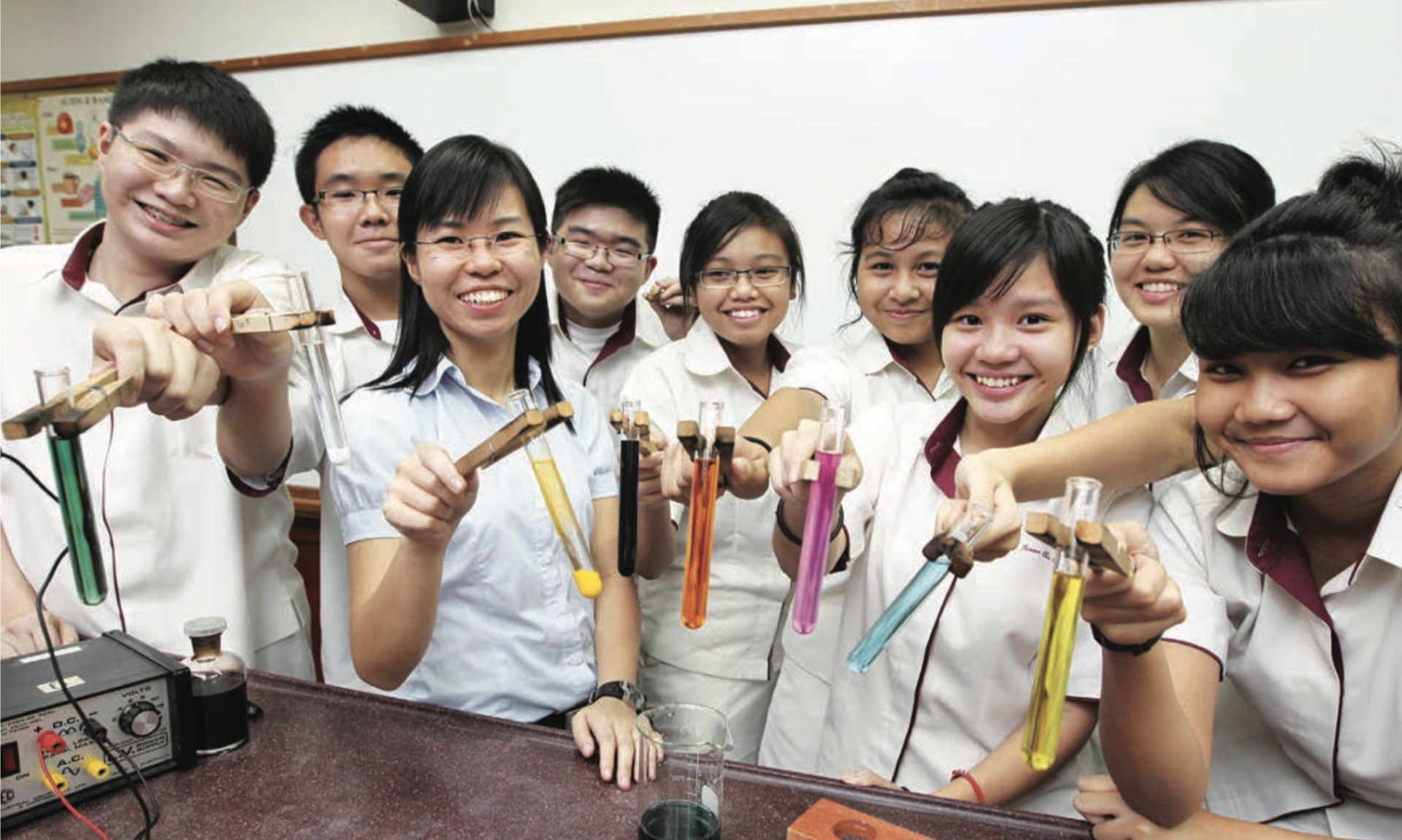 有些政府中学会为优秀的学生提供"综合课程"(Integrated Programme,简称IP)的直通车计划,这些学校提供6年的课程,学上可以跳过剑桥O水准考试,直接在第6年参加新加坡剑桥高级教育证书(高级水准)考试,即剑桥A水准考试(GCE A-level Examination),International Baccalaureate(IB)考试或者NUS High School Diploma考试。而一般情况下学生需要在中4/5参加剑桥O水准考试,升入初级学院或者高级中学后在第二年(初级学院)或第三年(高级中学)才可以参加剑桥A水准考试。新加坡全国一共有154所中学,只有16所中学提供"直通车计划"。
中国学生来新加坡留学可以通过AEIS考试。AEIS是国际生入学考试(Admissions Exercise for International Students)的缩写,是由新加坡教育部组织举办的官方考试。目标群体是想于下一年进入政府小学2-5年级和政府中学1-3年级的国际学生。每年9/10月份举办,通过考试的学生于次年1月新学年开始时入学。没通过的学生可以报名参加第二年2月份的S-AEIS(补充AEIS考试,Supplementary Admissions Exercise for International Students),通过后于当年4月底插班入学。
We rank all secondary schools based on the PSLE cut-off points of their 2018 intake.
Schools offering 6-year programmes, i.e. Integrated Programme (IP) and International Baccalaureate (IB), are highlighted in bold.
Schools under the Special Assistance Plan (SAP) are also indicated below. Students in the top 30% of the PSLE cohort who take the Higher Chinese subject will be given bonus points, added to the T-Score, for admission to SAP secondary schools: 3 points for Distinction, 2 points for Merit and 1 for Pass.
Nanyang Girls' High School IP SAP

(girls)

– 264
Methodist Girls' School (Secondary) IB

(girls)

– 260
Raffles Girls' School (Secondary) IP

(girls)

– 260
Hwa Chong Institution IP SAP

(boys)

– 258
Raffles Institution IP

(boys)

– 257
Anglo-Chinese School (Independent) IB

(boys)

– 256
CHIJ St. Nicholas Girls' School IP SAP

(girls)

– 256
National Junior College IP

(co-ed)

– 256
Dunman High School IP SAP

(co-ed)

– 255
Cedar Girls' Secondary School IP

(girls)

– 254
Methodist Girls' School (Secondary) O-levels

(girls)

– 254
Catholic High School IP SAP

(boys)

– 253
CHIJ St. Nicholas Girls' School O-levels SAP

(girls)

– 253
St. Joseph's Institution IB

(boys)

– 253
Singapore Chinese Girls' School IP

(girls)

– 252
Victoria School IP

(boys)

– 252
Catholic High School O-levels SAP

(boys)

– 250
Paya Lebar Methodist Girls' School (Secondary)

(girls)

– 250
River Valley High School IP SAP

(co-ed)

– 250
Singapore Chinese Girls' School O-levels

(girls)

– 250
Anglo-Chinese School (Independent) O-levels

(boys)

– 249
Cedar Girls' Secondary School – O-levels

(girls)

– 249
Temasek Junior College IP

(co-ed)

– 249
Victoria School – O-levels

(boys)

– 246
Anderson Secondary School

(co-ed)

– 245
Bukit Panjang Govt. High School

(co-ed)

– 244
St. Joseph's Institution O-levels

(boys)

– 244
CHIJ Secondary (Toa Payoh)

(girls)

– 243
Nan Chiau High School SAP

(co-ed)

– 243
Nan Hua High School SAP

(co-ed)

– 243
Chung Cheng High School (Main) SAP

(co-ed)

– 242
Crescent Girls' School

(girls)

– 241
Fairfield Methodist School (Secondary)

(co-ed)

– 241
St. Margaret's Secondary School

(girls)

– 241
Anglo-Chinese School (Barker Road)

(boys)

– 240
Swiss Cottage Secondary School

(co-ed)

– 239
Anglican High School SAP

(co-ed)

– 238
Chung Cheng High School (Yishun)

(co-ed)

– 238
Commonwealth Secondary School

(co-ed)

– 237
Ngee Ann Secondary School

(co-ed)

– 237
CHIJ St. Theresa's Convent

(girls)

– 235
Maris Stella High School SAP

(boys)

– 235
Yishun Town Secondary School

(co-ed)

– 235
St. Andrew's Secondary School

(boys)

– 234
Zhonghua Secondary School

(co-ed)

– 234
Xinmin Secondary School

(co-ed)

– 233
CHIJ St. Joseph's Convent

(girls)

– 232
Fuhua Secondary School

(co-ed)

– 232
Kuo Chuan Presbyterian Secondary School

(co-ed)

– 232
Presbyterian High School

(co-ed)

– 232
Clementi Town Secondary School

(co-ed)

– 231
Tanjong Katong Girls' School

(girls)

– 231
Tanjong Katong Secondary School

(co-ed)

– 231
Temasek Secondary School

(co-ed)

– 231
Riverside Secondary School

(co-ed)

– 230
Dunman Secondary School

(co-ed)

– 229
Kranji Secondary School

(co-ed)

– 229
Holy Innocents' High School

(co-ed)

– 228
Edgefield Secondary School

(co-ed)

– 226
CHIJ Katong Convent

(girls)

– 225
St. Patrick's School

(boys)

– 225
Ang Mo Kio Secondary School

(co-ed)

– 224
Bowen Secondary School

(co-ed)

– 224
Evergreen Secondary School

(co-ed)

– 224
Geylang Methodist School (Secondary)

(co-ed)

– 224
Jurong Secondary School

(co-ed)

– 224
Bukit Batok Secondary School

(co-ed)

– 223
Gan Eng Seng School

(co-ed)

– 223
St. Anthony's Canossian Secondary School

(girls)

– 223
St. Gabriel's Secondary School

(boys)

– 222
Hua Yi Secondary School

(co-ed)

– 221
St. Hilda's Secondary School

(co-ed)

– 221
Hai Sing Catholic School

(co-ed)

– 220
West Spring Secondary School

(co-ed)

– 220
Mayflower Secondary School

(co-ed)

– 219
Pei Hwa Secondary School

(co-ed)

– 219
Ahmad Ibrahim Secondary School

(co-ed)

– 218
Pasir Ris Secondary School

(co-ed)

– 216
Deyi Secondary School

(co-ed)

– 215
Pasir Ris Crest Secondary School

(co-ed)

– 215
Queensway Secondary School

(co-ed)

– 214
Bedok View Secondary School

(co-ed)

– 212
Unity Secondary School

(co-ed)

– 212
Beatty Secondary School

(co-ed)

– 211
Chua Chu Kang Secondary School

(co-ed)

– 211
Woodlands Ring Secondary School

(co-ed)

– 211
Compassvale Secondary School

(co-ed)

– 210
Meridian Secondary School

(co-ed)

– 208
North Vista Secondary School

(co-ed)

– 208
Orchid Park Secondary School

(co-ed)

– 208
Peirce Secondary School

(co-ed)

– 208
Yuan Ching Secondary School

(co-ed)

– 208
Bedok South Secondary School

(co-ed)

– 207
Kent Ridge Secondary School

(co-ed)

– 206
Zhenghua Secondary School

(co-ed)

– 206
Bukit View Secondary School

(co-ed)

– 205
Hillgrove Secondary School

(co-ed)

– 205
Montfort Secondary School

(boys)

– 204
Woodgrove Secondary School

(co-ed)

– 204
Greendale Secondary School

(co-ed)

– 203
Tampines Secondary School

(co-ed)

– 203
Christ Church Secondary School

(co-ed)

– 201
Yishun Secondary School

(co-ed)

– 200
Jurong West Secondary School

(co-ed)

– 199
Seng Kang Secondary School

(co-ed)

– 199
Westwood Secondary School

(co-ed)

– 198
Admiralty Secondary School

(co-ed)

– 197
Jurongville Secondary School

(co-ed)

– 195
Juying Secondary School

(co-ed)

– 195
Naval Base Secondary School

(co-ed)

– 195
Hougang Secondary School

(co-ed)

– 194
Punggol Secondary School

(co-ed)

– 194
Regent Secondary School

(co-ed)

– 190
Bukit Merah Secondary School

(co-ed)

– 189
Changkat Changi Secondary School

(co-ed)

– 189
Dunearn Secondary School

(co-ed)

– 189
New Town Secondary School

(co-ed)

– 189
Ping Yi Secondary School

(co-ed)

– 189
Springfield Secondary School

(co-ed)

– 189
Assumption English School

(co-ed)

– 188
Bartley Secondary School

(co-ed)

– 188
Bedok Green Secondary School

(co-ed)

– 188
Bendemeer Secondary School

(co-ed)

– 188
Boon Lay Secondary School

(co-ed)

– 188
Broadrick Secondary School

(co-ed)

– 188
Canberra Secondary School

(co-ed)

– 188
Damai Secondary School

(co-ed)

– 188
East Spring Secondary School

(co-ed)

– 188
East View Secondary School

(co-ed)

– 188
Fajar Secondary School

(co-ed)

– 188
Fuchun Secondary School

(co-ed)

– 188
Greenridge Secondary School

(co-ed)

– 188
Guangyang Secondary School

(co-ed)

– 188
Hong Kah Secondary School

(co-ed)

– 188
Junyuan Secondary School

(co-ed)

– 188
Loyang Secondary School

(co-ed)

– 188
Manjusri Secondary School

(co-ed)

– 188
Marsiling Secondary School

(co-ed)

– 188
Northbrooks Secondary School

(co-ed)

– 188
Northland Secondary School

(co-ed)

– 188
Outram Secondary School

(co-ed)

– 188
Peicai Secondary School

(co-ed)

– 188
Queenstown Secondary School

(co-ed)

– 188
Sembawang Secondary School

(co-ed)

– 188
Serangoon Garden Secondary School

(co-ed)

– 188
Serangoon Secondary School

(co-ed)

– 188
Shuqun Secondary School

(co-ed)

– 188
Tanglin Secondary School

(co-ed)

– 188
Teck Whye Secondary School

(co-ed)

– 188
Whitley Secondary School

(co-ed)

– 188
Woodlands Secondary School

(co-ed)

– 188
Yio Chu Kang Secondary School

(co-ed)

– 188
Yuhua Secondary School

(co-ed)

– 188
Yusof Ishak Secondary School

(co-ed)

– 188
Yuying Secondary School

(co-ed)

– 188